EXHIBITION news and archive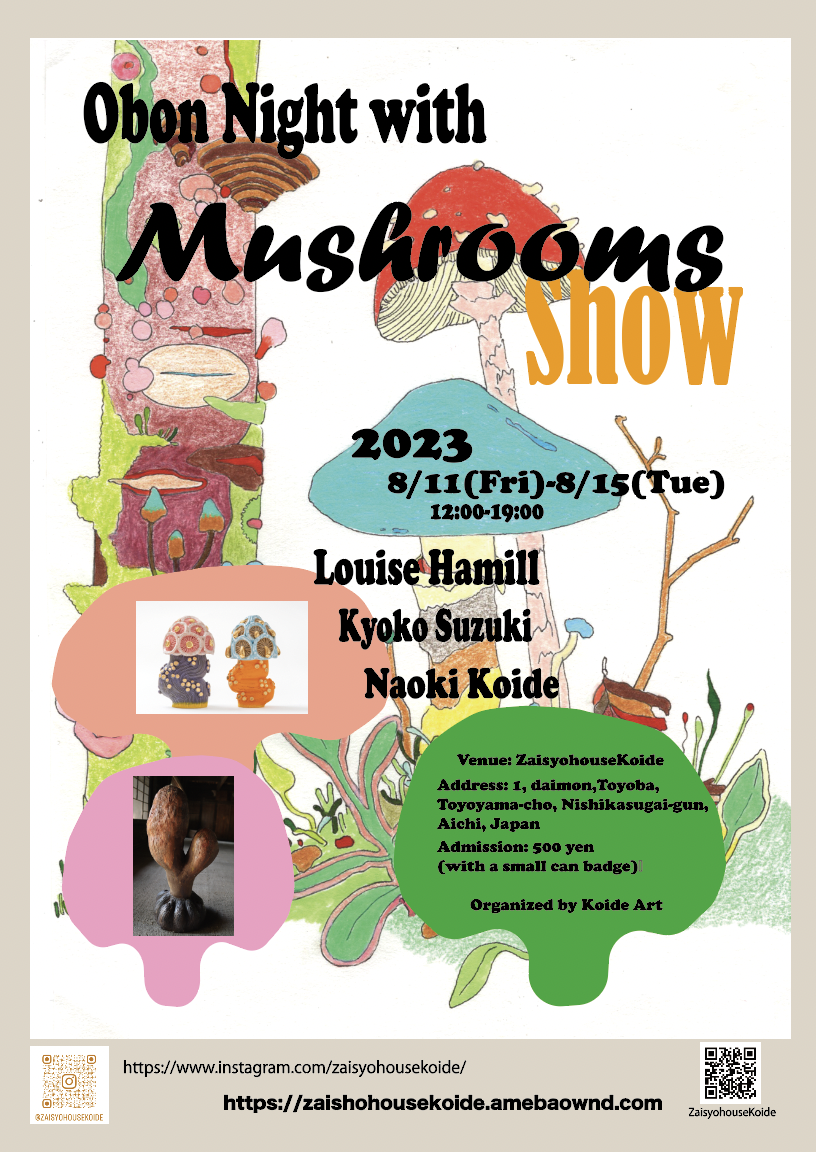 Obon Night with Mushrooms Show
8/11Fri-8/15Tue 2023
12:00~19:00
イベント会場
ZaisyohouseKoide(小出在所)
愛知県西春日井郡豊山町豊場大門1
https://zaishohousekoide.amebaownd.com
※11,12,13日在廊予定
入場料500円 缶バッチ付き
Obon Night 2023 is a mushroom show.
This year, we are pleased to present a group exhibition by three artists who create works related to mushrooms.
The keyword of the exhibition is "mushrooms.
The Australian and Japanese artists, attracted by this word, have launched this project with the concept of using this exhibition as a starting point and expanding the number of locations and artists in the future, spreading around the world like a mycelium.
We plan to hold exhibitions in Tokyo next year and in Australia the year after next.
This year, the first exhibition will be held at Naoki Koide's parents' home, Zaisyohouse Koide, in conjunction with "Obon Night.
Obon is a traditional Japanese seasonal event in which ancestors and deceased family members return to the homes of their living family members to spend time together during the Obon period.
This year's Obon Night is to celebrate with mushrooms along with Obon.
What kind of new scenery will the combination of Obon and mushrooms present to us?
Louise Hamill b.1985, is an artist from New Zealand, living in Perth, Western Australia.
Using a love for nature, meditation & channelling to create decorative, spiritually charged artworks. lnformed by a lifelong relationship with both the natural & the supernatural realms, it is the artist's desire to produce works which combine the material world with the spiritual.
Louise has exhibited in solo & group exhibitions, including Melbourne lnternational Fashion Week, Mundaring Art Centre, Cool Change Contemporary, Bellevue Art Space and Gotham Studios Gallery. Studio residencies include Cool Change Contemporary in 2019 & Perth lnstitute of Contemporary Arts in 2022.
Kyoko Suzuki Artist who expresses deep psychological movements and feelings of attraction through mushrooms.
Graduated from Tama Art University in 1991 with a degree in textile design. After working as a textile designer, she started her career as a ceramic artist in 2011. ln recent years, she has mainly produced works using mushrooms as a motif.
Participates in group and solo exhibitions in Japan, as well as art fairs and exhibitions abroad.
Naoki Koide Born in Aichi Prefecture in 1968.
He creates art works using various materials such as FRP, ceramics, and wood, using familiar people and objects as motifs.
He runs "Zaisyohouse Koide," a space in his parents' vacant house, and holds the art event "Obon Night" at the same venue, which is open to the public during the Bon Festival.
Produced ceramic works using a wood-fired kiln at the Shiga Ceramic Cultural Park. ln his solo exhibition at Tomio Koyama Gallery in 2023, he presented paintings using a new material, mortar, showing his development with new materials.